Founders Profile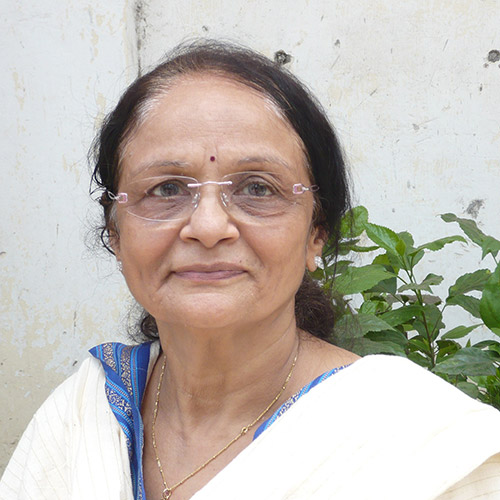 Founder President of SMILE, Ms Anaxi Shah is an experienced social worker for over 47 years having worked with different sections of the underprivileged.

She completed her BA from Wilson College, Mumbai in 1969 and her MSW from Nirmala Niketan College of Social Work in 1971.

In the decades before she started SMILE, Ms Shah worked with the JJ Group of Hospitals, at the Jairabhoy Pirbhoy Orphanage, at the Family Welfare Centre of Shri Jain Mahila Samaaj and with Vatsalaya – a Project dedicated towards street children in Nirmala Niketan College of Social Work.

She has also been Consulting Social Worker at SUPPORT, an organization working with Street children, mainly Drug Addicts and Project Mainstream; Governing Council Member of INFA (Indian Federation of Ageing); and a consulting faculty and resource person in various institutions working with children and women.

Ms Shah has also written and directed a film titled 'Asli Shaher' which depicts issues of runaway children and is the Director of 'Butterflies', a training course for aspiring voluntary social workers.
Founders Message
FROM THE PRESIDENT'S DESK
My journey with SMILE has not only been extremely satisfying at a personal level, it has also been one of constant learning.

My earliest experiences of interacting with children from underprivileged backgrounds had made me realise what immense potential they have. At the same time, it also brought me face to face with the challenges they face due to the environment in which they live.

Over the past two decades, our work with UDAAN has taught me that in addition to some monetary help, these children need constant encouragement and motivation, counseling and moral support. Our task is not to merely to give them support, it is to make them believe in themselves and help instill in them self -confidence which is the most important tool needed for success. Once we have managed to give them this most important asset, the sky is truly the limit.


Something similar is true of my experiences with UTKARSH. Soon after we began working with the women, I realized what amazing qualities most of them have. They are talented, patient, great with multitasking and they come with an innate inner strength and courage. They too have many challenges in their life.

Our role at SMILE is to help them realize their potential and help them nurture what they already have. We see them emerging and growing into leaders and women of substance.

This belief in the skills and abilities of the people we work with has been at the core of all our programmes. We have seen the dramatic transformations that this approach can conjure up.

All our students have done well at their studies, some have enrolled for professional courses, a few have found employment with leading companies. And the women, all have a steady and significant income. Some are almost self-reliant, all the others make substantial contributions to their family incomes.

During the second decade of SMILE, we also made the transition from working only in an urban setting to expanding to rural India as well. After an initial survey to understand the needs of this section of society, we decided to focus on education, first at the primary level by supporting establishment of functioning "Balwadis" and later to enhancing the infrastructure for middle and secondary level students too.

Unlock their potential and allow them to bloom, this is the core belief that will continue to guide SMILE in all its endeavours during its third decade and beyond.

We could not have done what we did, and we will not be able to continue on this path without the constant and systematic effort of our team at SMILE.

The work that we do, and the beaming faces of those who we work with, is our biggest reward; it brings a lot of contentment to me, and to all the others too.

And it will continue to inspire us in our work in the years ahead.